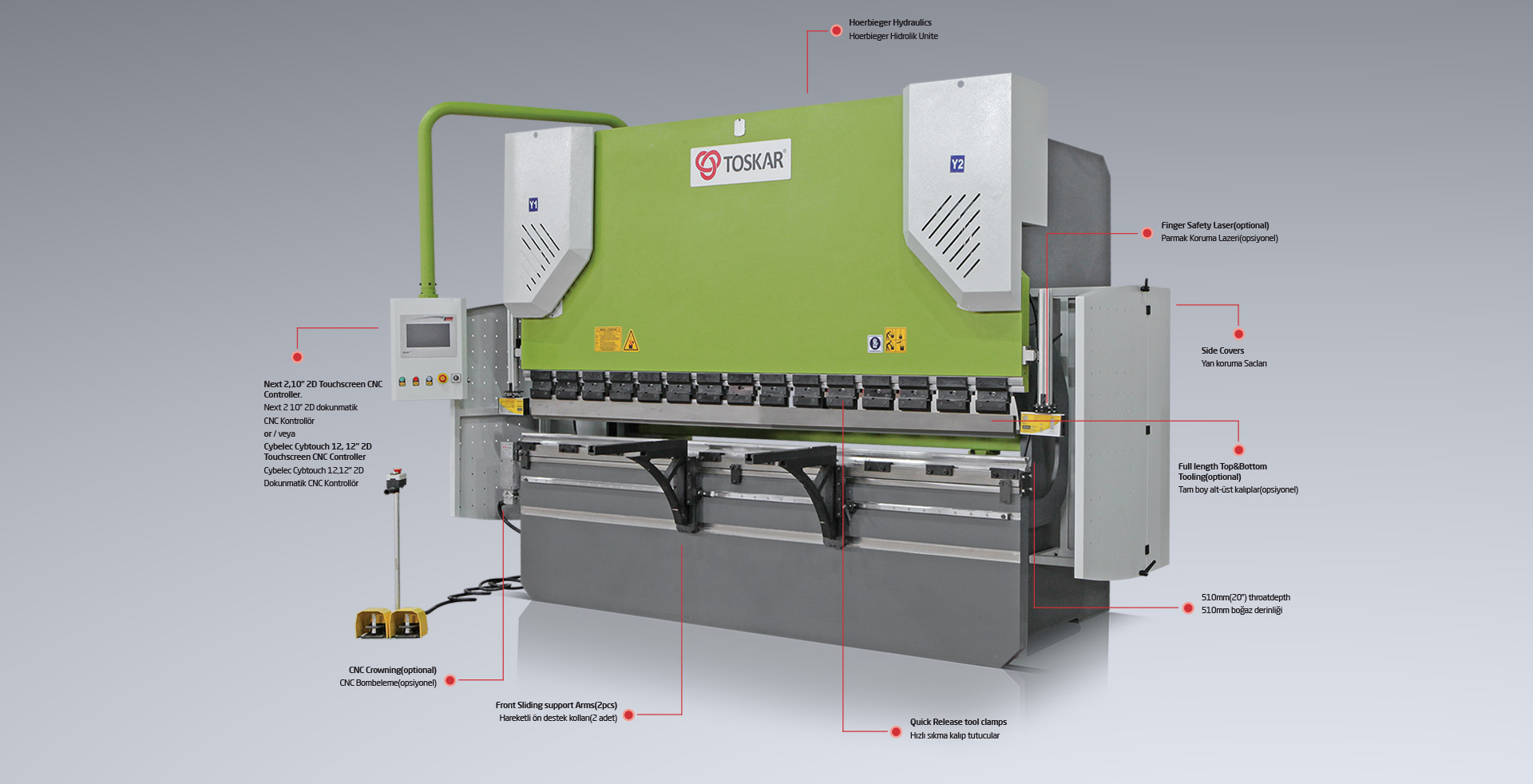 MAESTRO
CNC HYDRAULIC PRESS BRAKE SERIES
Maestro is designed with two main goals in mind: Easy operation, maximum productivity in the long run.
Carefully selected components, a sturdy steel frame (ST44 A1 steel) and wide variety of standard features like Motorized R axis (optional), manual crowning, full length tooling makes Maestro the workhorse of any production environment.Maestro's high price/performance ratio makes it a good long-term investment for low-to-high volume/low mix production runs.
Our 10" touchscreen 2D graphic control NexT 2.0 on Maestro is designed by our engineers with only two main goals in mind: Increase the productivity of the press brake and Make the life easier for the press brake operator.
NexT 2.0 achieves these goals by having a very easy to use graphical interface and doing all the hard work automatically like calculating the bend allowances, bend radii and optimum bending sequence.
Maestro's quick release clamps, manual Z fingers that are adjustable from front of the machine and sliding support arms make it real easy for tooling changes and part positioning.
• Robust steel frame (ST44 A1) machined with high precision (up to 0,01 mm) and welded by professional certified welders.
• Chrome covered and honed cylinders and ground pistons with high quality seals
• NexT 2.0 10" 2D Touchscreen CNC Controller or Cybelec Cybtouch 12, 12" 2D Touchscreen CNC Controller
• Hoerbieger Hydraulics
• 510 mm Throat depth
• High Stroke and Daylight
• Quick release tool clamps with European and/or American type fitting
• Y1 – Y2 Synchronized hydraulic cylinders
• High-resolution linear scales for synchronized ram operation
• X servo backgauge running on ballscrews and linear guides
• Sliding Front Support Arms
• Side Guards and back photocells for safety
• Siemens electrical system
• High Safety Pilz PLC system
• Manual Crowning System